Every problem counts
Problemator makes it a breeze to manage your gym's competitions, problems and circuits. You can also print route stickers and A4 labels for the walls.
Sample of companies using Problemator Everything you need to manage your routesetting
Well, we haven't added all the features we are still developing, but...
Keep track of routes/problems, their ages, ascents, authors, likes and receive info about dirtyness/dangers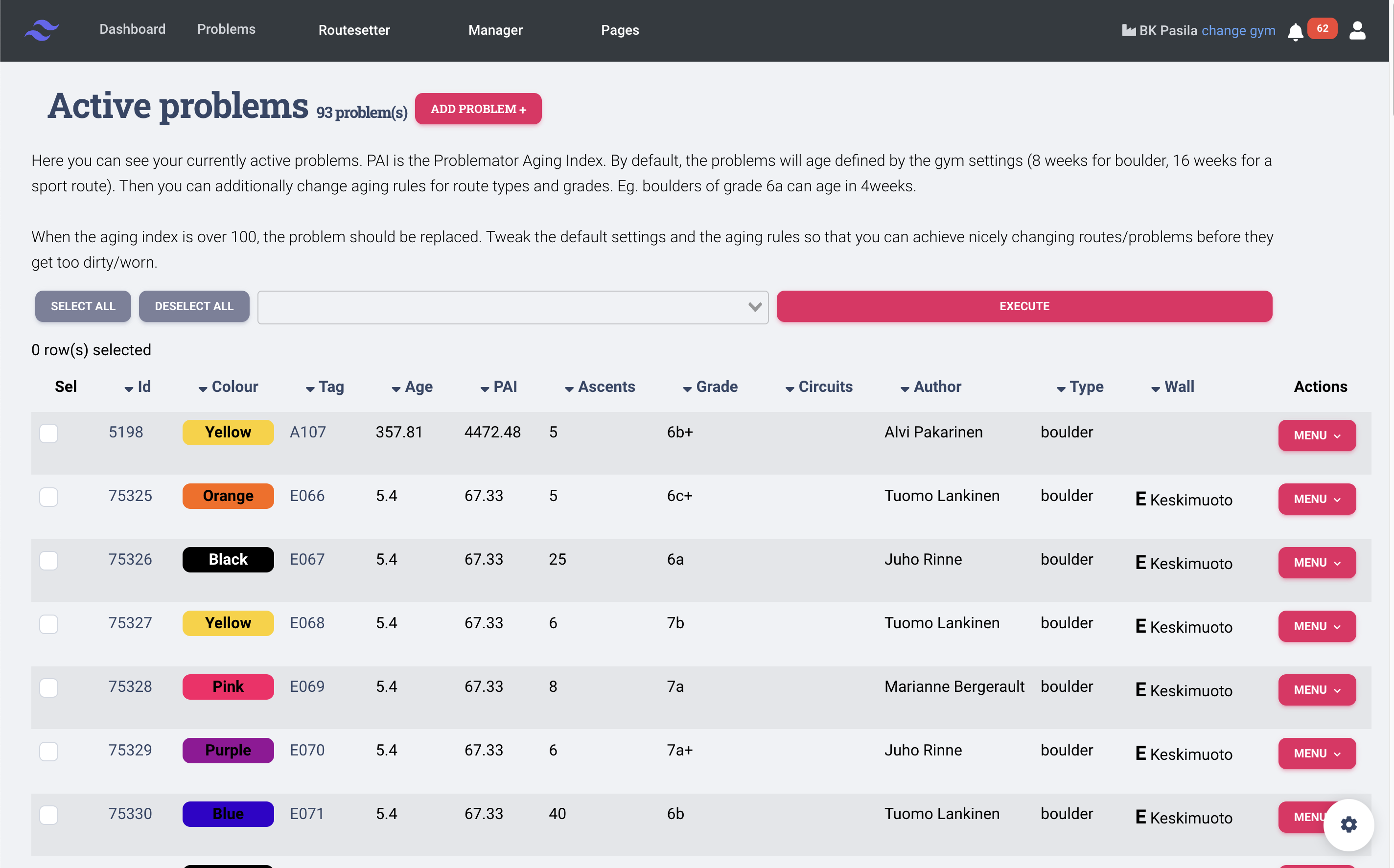 Simple pricing,

for everyone.
No matter what size your gym is, good routesetting is essential.
Starter
Gets you going
0€
All the features, no restrictions
Enterprise
For the unicorns.
Ask
If you want something tailored just for you

Rainbow sprinkles

White fluffy clouds
Depends
On the users
Future
If the product is someday awesome enough there might be a price tag, but it will not be a big one Frequently asked questions
If you can't find what you're looking for, email us info@problemator.fi and we will be in touch.
Are there any extra/hidden costs

Of course there are. If you want people to pay for the comps via Problemator, using your OWN payment service it is free, but if Problemator acts as a middleman, we charge 1.5-2e/contender.
Also if you print route labels, you have to buy a sticker printer + stickers. But that's all.

Can I pay for my subscription via purchase order?

Absolutely, we are happy to take your money in all forms.

A feature is missing, which we totally need

Contact us at info@problemator.fi It might be that we're developing just the thing you need. We can also do tailored stuff, just contact us.

I cannot find Problemator from the app store

Problemator mobile app is not in the app stores, it can be found from https://pwa.problemator.fi

I want to have a competition with variable points qualification and IFSC Bouldering finals, can I do it?

Yes, just go to the competitions and look at the competition types. There should be help for setting up the comp.

I cannot find my ticks?!?

Sometimes (especially when using Facebook login) Problemator does not have your email and cannot link you to your new account. If you know your old email associated with Problemator, you can open the menu (top right) and choose "Import ticks". You can also contact us info@problemator.fi and we will help you!

I lost my password, how do I get into my account?

Just use the "I lost my password" functionality in login.